Known for her many iconic and sensual portraits of liberated women of the 1920s and '30s, Polish Art Deco painter Tamara de Lempicka made waves of excitement during the recent Christie's Impressionist and Modern Art evening sale in London in February this year. One of her paintings, known as Portrait de Marjorie Ferry (1932), set a new auction record for her work, being sold for $21.1 million. Her previous record was set only several months prior at a Sotheby's sale in New York when La Tunique Rose (1927) was sold for $13.3 million. Among Tamara de Lempicka's other art deco portraits, La Musicienne (1929), held the record since 2018, when it was sold for $9.1 million.
Painted in 1932, Portrait de Marjorie Ferry depicts a well-known British cabaret singer performing in Paris. Marjorie Ferry represents the apotheosis of Jazz Age glamour and decadence, showcasing the world of style and entertainment in her seductive presence. Like many of the subjects of De Lempicka's portrait works, this one too depicts a woman from the early 1930s, a glittery scene of high society life in Paris that the art deco artist encountered during her time in Paris between the wars. But what do we really know about Tamara de Lempicka, and what led her to become one of the art world's best-known Art Deco movement icons?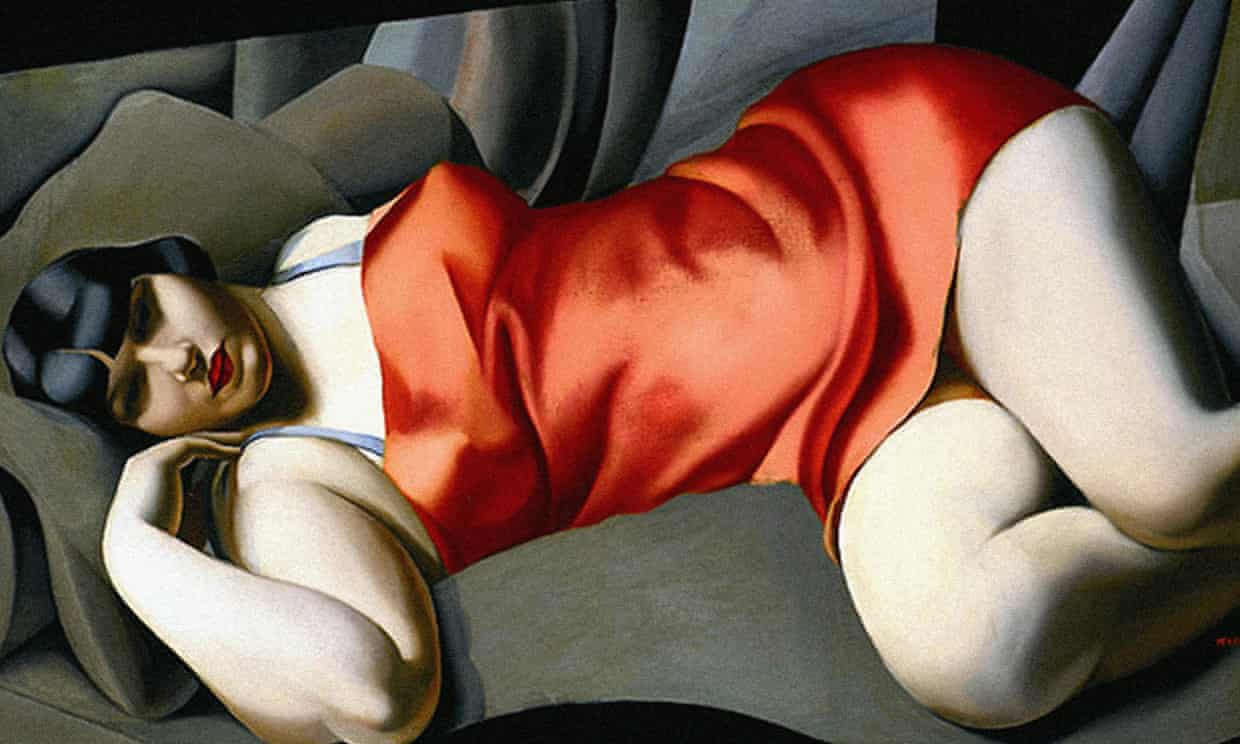 A Glimpse Into the Life of the Baroness With a Brush
Also known as "The Baroness with a Brush," Tamara de Lempicka is well-known in art collector circles for her self-portraits and paintings in her instantly recognizable Art Deco style. Her artwork is the embodiment of female independence, liberation, power, and sensuality during the Roaring Twenties and Thirties.

Born Maria Gorska in Warsaw, Poland on May 16th, 1898 to a Russian Jewish lawyer father and Polish socialite mother, Tamara was exposed to the arts early on in her life. She began painting at the very young age of 12 when she created a portrait of her younger sister, Adrienne. After spending a short time at a boarding school in Lausanne in Switzerland, she moved to Italy to live with her grandmother. Here, she discovered a strong interest in art, being greatly inspired by the masters of Italian Renaissance art.

In her young mid-teens, she married a Polish lawyer by the name of Tadeusz Lempicki, whom she met while living at her aunt's in Saint Petersburg, Russia. Soon she gave birth to her only daughter Kizette (Maria Kristiyna). One year after their wedding, however, with the Russian Revolution and the transformation of the Russian Empire into the Soviet Union, the couple was forced to leave the city as refugees and fled to Paris. Unfortunately, after their arrival in Paris, Tadeusz was unable to find suitable work. Due to their continuing financial constraints and at her sister's advice, Tamara began studying art under influential artists, such as Maurice Denis, who was actively involved with French Navis painters (Les Navis), and André Lhote, a French Cubist painter and art critic, who had the biggest influence on her iconic Art Deco style. This step in her life pushed her into the Parisian avant-garde scene, alongside famed intellectuals and artists of the time, like André Gide, Jean Cocteau, and Pablo Picasso.

Impressionism had been around for more than half a century by that time, dominating the art world since the 1860s. Yet, De Lempicka was never keen on Impressionist style for herself. In her own words, she once said, "My goal is never to copy, but to create a new style, clear luminous colors and feel the elegance of the models." In fact, she looked at Impressionist paintings as works with "dirty" colors. By contrast, her own innovative style was cleaner, strong and vivid, and instantly elegant.

In late 1939, following the outbreak of World War II, Tamara and her second husband, Raoul Kuffner de Diószegh, moved to the United States. They first settled in Los Angeles, then in New York City in 1943. Following the war, she continued painting but had fewer commissions for her society portraits. Her Art Deco style began looking somewhat dated in the postwar era with newly popular art movements of minimalism and abstract expressionism.

Later in life, she began expanding her subject matter to include still lifes. In 1960, she started painting abstract works using a palette knife, instead of her usual brushwork. She even reworked some of her earlier pieces on occasion.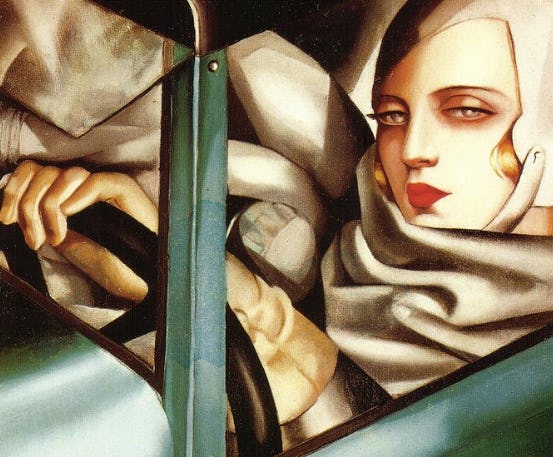 A Frenzied Social Life in a Call to Order Movement
If we can encapsulate the Art Deco style into a single piece of art, that would be the De Lempicka painting Autoportrait (Tamara in a Green Bugatti). Defined as a symbol for women's liberation, the work was commissioned by the German fashion magazine Die Dame as its cover image in 1929. The painting depicts a woman-in-charge by portraying the power of a car equal to the woman figure, challenging the stereotype of female role and asserting herself as a symbol of freedom and power.

Put into perspective of the time, De Lempicka's portraits were in alignment with the "call to order" movement. This was an era when European art was returning to monumental realism. The fascist authoritarian discipline can clearly be seen through her dark and clear-cut glamour. In essence, De Lempicka was a product of her time; a period of uncertainty and transition, where her innovative artistic impulse fused functionalism of the time mixed with illusion and fantasy, where strict social structures often mingled with the frenzied.

Being inspired by Renaissance art at her young age, De Lempicka was a classicist at her core. She combined traditional portraiture with sleek and modern elements in her compositions using photographic lighting and advertising design techniques for her subjects, in highly stylized modern architectural backgrounds.

While living in Paris during the interwar period, Tamara de Lempicka was also a Left Bank bisexual. The French capital, at this time, was a place of high style and lasciviousness and the artist was living her bohemian life like scandalous fiction of her own in itself. Through her works, de Lempicka depicted Paris for what it truly was; a place where strict discipline of fascism provided a thin outer layer of illusion yet desiring for prurience and lustfulness. Nothing was precisely as it seemed on the surface. In reality, that Bugatti wasn't even a Bugatti but a Renault, and it wasn't really green but yellow.
De Lempicka's Legacy
Renewed interest in her artwork began in the early 1970s when the retrospective of her work took place at Galerie du Luxembourg in Paris in 1972. After her death in 1980, her works became more sought-after among collectors, particularly by celebrities like Madonna, Barbara Streisand, and Jack Nicholson. De Lempicka's portraits also made it in some of Madonna's music videos, such as Open Your Heart, Express Yourself, and Vogue. A stage play called Tamara was inspired by her meeting with Gabriele D'Annunzio during her stay in Italy. This play ran in Los Angeles for eleven years, making it the longest-running play in the city.

Persevering through her tumultuous life, De Lempicka managed a successful career as a woman artist — a rightful testament to her enormous contribution to the development of the modern art movement. Though often defined just like an Art Deco artist, De Lempicka's innovation transformed an artistic technique by creating an iconic genre of post-cubist and neoclassicist style and continuing to strike a chord with contemporary fans of female empowerment that reflects their own images in her work. She pushed the limits imposed by society on the life and art of a woman, pioneering a new vision of life.

"There are no miracles, there is only what you make yourself." – Tamara de Lempicka